Location:
/
Thanksgiving Thunder
Thanksgiving Thunder
Thanksgiving Thunder was one of our best shows, which shows it's not the NUMBER of wrestlers on the card, but just how ENTERTAINING they can be. Guest announcer STRO was on hand as well, which made this modest little show even MORE exciting.
Each match is already discounted, but save even MORE if you buy all five videos at once. Get the entire show for only $39.00.
Click HERE and purchase by Credit Card or use your PayPal account, and get immediate access to your purchase.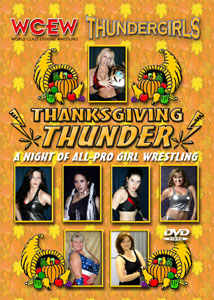 JENNY TAYLOR vs CINDY ROGERS The first match of the night brought a couple of simply fantastic young talents to the T…


$10.95 $8.95

ALLISON DANGER vs ALERE LITTLE FEATHER Allison Danger is back, meaner and sexier than ever, and we were also proud to…


$14.95 $9.95

BECCA VS FANTASIA Before this match was even booked we had fans clamoring to see these very two ladies in the ring to…


$12.95 $8.95

JENNY TAYLOR & ALERE LITTLE FEATHER VERSUS ALLISON DANGER & CINDY ROGERS Okay, intermission's over, and…


$15.95 $12.00

FANTASIA VS BRANDI WINE Well it's come down to the wire, and now the match to determine WHO will go home with the…


$10.95 $7.95